WELCOME TO HOPE ASSOCIATION
Hope Association has a long history of providing a wide range of services for people with developmental disabilities.
Hope Association envisions a world where all people are treated with respect.
As partners in our community, we will provide leadership, residential, community case management, vocational, and community support services, to individuals and their families, through programs that enhance independence, dignity, choice and individual well-being.
National Alliance for Direct Support Professionals Code of Ethics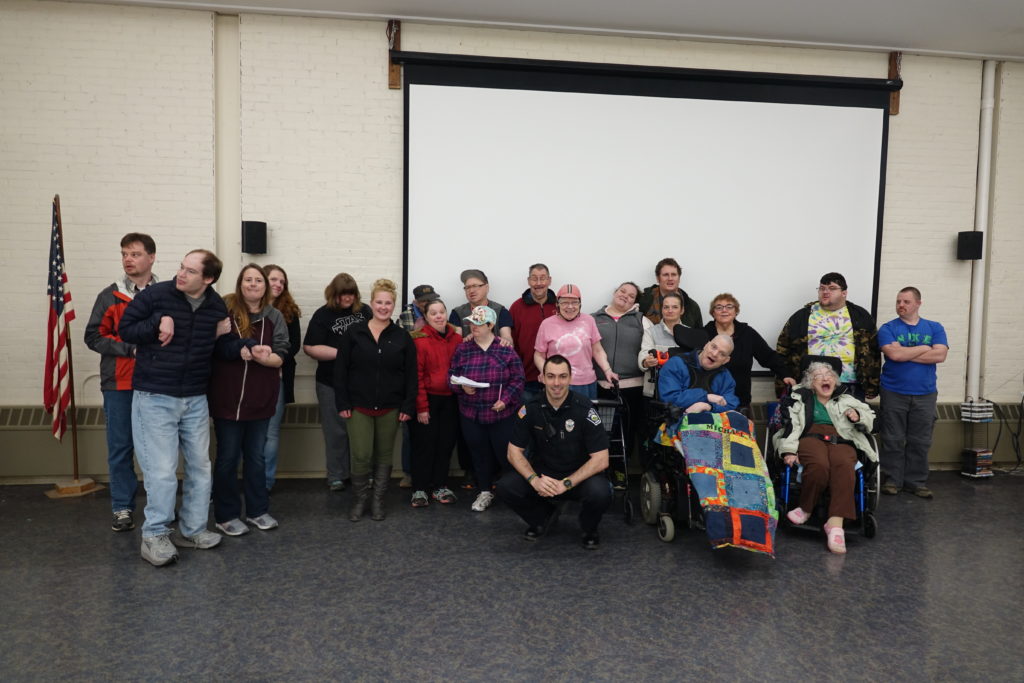 Dear Danielle, We are so happy with the way Robin Smith is working with Betty. Betty looks forward to the visits. Robin is kind, creative, and attentive. She makes every effort to make the visits satisfying and varied, and she listens carefully to Betty's concerns and wishes. This is a wonderful service for one hour every day, and we're so appreciative.
I have been meaning to reach out to you to express how much I enjoyed watching the fashion show. The smiles on everyone's faces were absolutely priceless! Those are the days in which our jobs are that much more rewarding! Thank you so much for giving that day to all of our clients!
I who would like to thank both Catherine and Vickie for the invaluable information. Thank you for being so open and helpful. It is rare in this day and age of competition and turf protection. I hope we can continue to work together and always do what is needed for the individuals in our area! Thanks again.
Let's Make The World a Better Place
In 1956, a group of parents and friends linked arms together to form a group that would provide support for people with mental retardation and related disabilities…
In 1956, a group of parents and friends linked arms together to form a group that would provide support for people with mental retardation and related disabilities…
Community Support Services provide individuals person-centered services within their own homes and communities…
The What Not Shop offers Customer Appreciation Punch Cards. If you purchase at least $5 in items during your visit you will receive one punch…
Dear Hope Association Community Case Manager,
I successfully delivered L to her new home yesterday. B met me there with D, and E , the new house manager, and B , the second support staff. We unloaded the van, unpacked a little and talked for a while about a variety of details that Emily had questions about. It was really peaceful. L sat next to me on the couch, with her legs on my lap, occasionally grabbing my neck and hugging me, but it was calming to me and I simply redirected her.
We moved to the table with Playdoh and the 4 of us began playing. When L seemed relaxed and more focused on the playdoh instead of rechecking in with me every few seconds, I told her "Mama needs to go and get some things done. Can you say 'bye' to Mum?" She looked at me blankly so I repeated myself and she waved, still looking a little questioning, but I smiled, waved back and got up, left the table, and walked out the door as though I were simply dropping her off at day program.
I held it together until I reached the van and opened my door.
I climbed inside as the tears began flowing. I drove off, waved with a smile at the house, and called J to let him know I'd been successful and then completely fell apart. I stopped the van once I was out of sight to calm a little and call B . I asked him if she was ok and he said she was transitioning from wondering what had just happened and tapping on/waiting for me at the window to being distracted by the girls asking her to play. That was sufficient comfort and I continued home, stopping again in Auburn to collect myself when emotions became too overwhelming to breathe so I could finish the drive home safely.
I had an amazing experience with reminders that Heavenly Father is aware of my needs, loves me, loves L, and will watch over her. I posted a few pictures on my public Facebook account, along with a little narrative. Last night at 7:30 we Facetimed and L was lounging on the couch with her singing puppy, looking calm. She lit up and waved when she saw me on the phone and pressed it repeatedly, causing the call to fail, but it was a blessing to see her that way… I know it will be a process transitioning, but this has been hopeful and positive, reminding me this is the next step for L to progress and reach her potential.
Thanks for everything you have done to help this transition move forward and be smooth. B was so grateful yesterday for your thoroughness and your support, as am I.